Auerbach Hirsch Fund
The "Henry A. Auerbach Memorial Fund" was established in 1949 by Mrs. Henry Auerbach and her daughter, Mrs. Ruth Auerbach Hirsch in memory of Henry Auerbach, their husband and father. Henry Auerbach was one of the hospital's founders and the second president of the board of directors serving from 1929-1936. Henry worked tirelessly to build a Jewish hospital in Kansas City modeled after other leading Jewish hospitals throughout the country. Henry believed a Jewish hospital was critical as he recognized that many Jewish patients were uncomfortable in non-Jewish surroundings and knew that area hospitals had staff quotas for Jewish physicians
The original gift was $6,000 in Commerce Bankshares given to the Jewish Memorial Hospital, Menorah Medical Center's predecessor. The income from the fund was to be used to support the health care needs of indigent children. In 1968, Mrs. Hirsch established the "Auerbach-Deutsch Memorial Fund for Indigent Children." In 1985, at the request of Mrs. Hirsch's daughter, Rosine Hirsch Helzberg, the two funds were combined into the "Auerbach-Hirsch Fund" and broadened to include all indigent patients.
Henry's dedication to his community was passed on to his children and grandchildren. His daughter Ruth's husband Clarence served on the first board of directors. His grandson Robert Hirsch oversaw the investment and allocations of the Auerbach Hirsch Fund. His granddaughter Rosine Helzberg was an active member of the Menorah Women's Auxiliary and her husband James was on staff at Menorah. His great grandchildren Susan Helzberg Sloman and Dr. John Helzberg, children of Rosine and James, currently oversee the allocations of the Auerbach Hirsch Fund. Susan and John have shared this history with their children and expect that they will assume the responsibility for the Fund in the future.
Quote: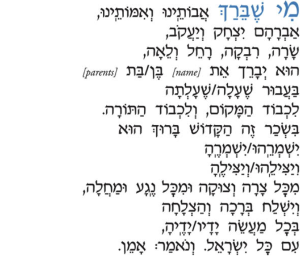 Mi Shebeirach avoteinu v'imoteinu,Avraham, Yitzchak v'Yaakov, Sarah, Rivkah,Rachel v'Lei-ah, hu y'vareich et hacholim[names]. HaKadosh Baruch Hu yimaleirachamim aleihem, l'hachalimam ul'rapotamul'hachazikam, v'yishlach lahem m'heirahr'fuah, r'fuah shleimah min hashamayim,r'fuat hanefesh ur'fuat haguf, hashtabaagala uviz'man kariv. V'nomar: Amen.
May the one who blessed our ancestors, Abraham, Isaac and Jacob, Sarah, Rebecca, Rachel and Leah, bless and heal those who are ill [names]. May the Blessed Holy One be filled with compassion for their health to be restored and their strength to be revived. May God swiftly send them a complete renewal of body and spirit, and let us say, Amen.
Current Projects: Support care for indigent residents at Village Shalom and patients at Saint Luke's Hospital.
Trustees: John Helzberg, MD and Susan Helzberg Sloman, Katherine Sloman Herrick, James Henry Helzberg, Jamie Ruth Sloman and Elizabeth Morgan Helzberg.